This blog post will be about my Eminent person, Dmitri Shostakovich, the Soviet composer. It is also written from the point of view of Shostakovich himself.
Why I am Eminent
I should be remembered among influential artists in classical music because of my uniqueness in style. No other composer sounds like me. Although there are some like Schnittke who take heavy influenc
e from me, my sound is truly my own. I was able to compose music that complied with the Soviet art limitations of my time and to also compose music that truly expresses what I wanted to express with them. Of course, there were times where the government or public did not like what I was composing (like my opera, Lady Macbeth for example), but every great artist receives backlash and criticism, and that is what I think I am: A great artist.
Although I did not compose as many symphonies as Haydn (with a count of 104 symphonies), I am known for my orchestral works which consist of 15 symphonies and 6 concerti, many of which were composed during the aforementioned time of art constrictions in the Soviet Union. Since I was able to compose such compelling art under such limitations, it shows that I was a very brave individual in such difficult times and I think that one can learn from my experiences to stay resilient in such times, especially with the COVID-19 pandemic.
Timeline
September 25th, 1906: I was born in Saint Petersburg, Russia.
1915: I start taking piano classes at age 9.
1919: I compose my first orchestral piece, a Scherzo in F# Minor.
1924 – 1926: I compose and premier my first symphony.
1932: An opera I have composed, Lady Macbeth of the Mtsensk District, is completed.
January 26th, 1936: Stalin visits the Bolshoi Theater, where my opera, Lady Macbeth is being played. Stalin did not approve of the opera.
January 28th, 1936: A government-approved magazine, Pravda, releases an issue on the third page of the magazine titled "Muddle Instead of Music," talking about my opera negatively.
November 21st, 1937: My fifth symphony is premiered in Leningrad, and it received an ovation that lasted over half an hour.
March 5th, 1942: My seventh symphony (the most popular one, titled "Leningrad") premiered in the city of Kuybyshev (now known as Samara).
August 9th, 1975: After many composition releases, I die in 1975.
Major Accomplishments
I have received many awards throughout my lifetime, and even one after. Here is a list of all the awards I have received:
Order of the Red Banner of Labour (1940)
Stalin Prize (1941)
Stalin Prize (1942)
Stalin Prize (1946)
Order of Lenin (1946)
People's Artist of the RSFSR (1948)
Stalin Prize (1950)
Stalin Prize (1952)
People's Artist of the USSR (1954)
International Peace Prize (1954)
Order of Lenin (1956)
Lenin Prize (1958)
Wihuri Sibelius Price (1958)
Member of the Royal Academy of Science, Letters and Fine Arts of Belgium (1960)
Hero of Socialist Labour (1966)
Order of Lenin (1966)
Gold Medal of the Royal Philharmonic Society (1966)
USSR State Prize (1968)
Order of the October Revolution (1971)
Léonie Sonning Music Price (1973)
Glinka State Prize of the RSFSR (1974)
Shevchenko National Prize (1976 (posthumously))
Besides these awards, I am also known for my repertoire of orchestral music, which includes 15 symphonies and 6 concerti, of which many were written under the government limitations of Soviet art.
A Tribute Piece to Myself
I wrote a short piece to commemorate my life. In it, I use my signature motif, DSCH. You can hear this motif in the first four notes of the piece. Here is the score for the piece, and below is my piece played by a computer.
Interview Reflection
This is the only part of my Learning Center that is outside the point of view of my Eminent person.
I held an interview with Mr. Trovato, the music teacher at my school, and talked to him about how composers compose music. The truth is that different composers compose music in different ways. "Some people hear a melody they like, some people take a walk and hear a bird singing and that inspires them, it's different for everybody." After this interview, I decided to think of ways that I could come up with a melody that I could write a whole piece about. I had to keep in mind that I needed to represent Shostakovich in some way in the piece, so I experimented with different melodies until I was reminded of his signature motif, DSCH. You can hear the motif in the main theme of the piece I composed. Before conducting the interview, I had a lot of trouble thinking of who to email since my Eminent person, Shostakovich, is not very well-known outside of the classical music community. Even then, he is not nearly as popular compared to composers like Mozart and Schubert. So, for the majority of the time, I was stuck trying to find someone who could fit the criteria as an interviewee. However, I soon realized that the person to interview did not have to be incredibly fancy, like a foundation. I then simplified what I could ask the interviewee to "how different people compose music", as that is directly related to what I decided to do for my learning center: To compose a piece of music. So, I interviewed a person much closer to me than where I imagined: My school's music teacher.
After interviewing Mr. Trovato, I felt relieved that the interview did not have to be such a stressful idea, and that had given me the perfect boost to my "morale" that I had needed. I was then ready to start experimenting with different ideas and what the main theme of my composition could be. A few days later, I was experimenting on the piano that I have at home with my mom watching TV and my dad playing on a Persian instrument, a setar, until I remembered the DSCH motif that I hear so frequently in Shostakovich's music. Not only did this motif appear so much in his music, but Shostakovich was also generally known for his quotations in music. After experimenting a bit with what could be done with both the left hand and right hand on the piano, I knew that this would be the motif to use for my piece. Soon enough, I had opened a document on MuseScore 3 and started composing.
If I had not interviewed Mr. Trovato, I would not have known to experiment with different themes and melodies to come up with the perfect one to use. I would now like to thank Mr. Trovato for being my interviewee on such short notice over email, and my friends for helping to look over various parts of my Eminent project (speech and musical piece for examples).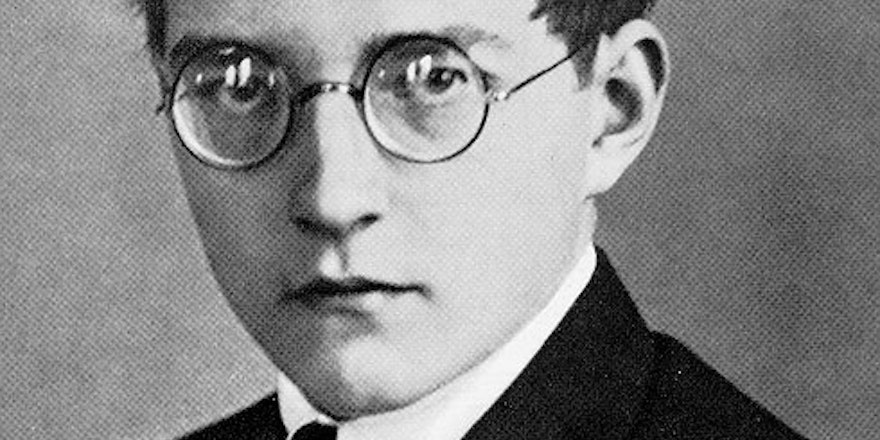 References
Wikimedia Foundation. (2021, November 22). Dmitri Shostakovich. Wikipedia. Retrieved November 26, 2021, from https://en.wikipedia.org/wiki/Dmitri_Shostakovich.
The Wikipedia page for Shostakovich is detailed, to say the least. From it, one can learn a lot about various aspects of his life, ranging from general information to awards and notable works from him, and that is exactly the type of information that I plan on using from this page. The thing about Wikipedia pages is that they can be edited by any party, meaning that multiple parties have contributed to it. Not only that, but considering that Shostakovich is now long dead, I suspect that a lot of information has been gathered about him and that many people have found out what information is correct and what information is not.
Brown, D. (2021, September 21). Dmitri Shostakovich. Encyclopædia Britannica. Retrieved November 26, 2021, from https://www.britannica.com/biography/Dmitri-Shostakovich.
Britannica is also another source of information that never fails to provide useful information if Wikipedia is not to be trusted. The Britannica site for Shostakovich covers much the same topics and assures one if the information that they have gathered from another site is correct. That is exactly what I used this Britannica site for.
Wikimedia Foundation. (2021, June 1). Muddle instead of music. Wikipedia. Retrieved November 27, 2021, from https://en.wikipedia.org/wiki/Muddle_Instead_of_Music.
The Wikipedia page above covers the Pravda issue about Shostakovich's opera, Lady Macbeth. I used this source for part of the timeline of Shostakovich's life, and I think that this page once again is reliable like other Wikipedia pages because of their ability to be contributed to by any parties.
Dmitri Shostakovich. Preceden. (n.d.). Retrieved November 28, 2021, from https://www.preceden.com/timelines/310245-dmitri-shostakovich.
This website presents the events of Shostakovich's life in a neat, clean, understandable way. I used this website for exactly that: The timeline. I have also skimmed through other sites and found that the majority of the information on this site is correct, so I have come to the conclusion that that site is credible.
Wikimedia Foundation. (2021, November 24). Symphony No. 7 (Shostakovich). Wikipedia. Retrieved November 28, 2021, from https://en.wikipedia.org/wiki/Symphony_No._7_(Shostakovich).
Finally, this is the Wikipedia page for Shostakovich's seventh symphony, the Leningrad, his most popular symphony. This source is credible for the same reason as the other Wikipedia pages I have used, and I have used this source for exactly what you may think: For information about his seventh symphony.