Eminent Introductory Blog Post 
"I think we all admire people who are dedicated, but at some point, you start to wonder where the line is between dedication and obsession," (Kelly Cordes, The Dawn Wall) 
The person I have chosen to do my eminent project on this year is Tommy Caldwell. Tommy Caldwell is an American rock climber and activist. I am interested in Tommy Caldwell because he has had an extremely successful climbing career and he has an amazing story. Tommy's story starts at a young age. Tommy was a scrawny kid, who struggled with school. His teachers went as far as to say, "He was mentally [delayed] and would never learn" (Terry Caldwell, The Dawn Wall). Tommy's father saw that Tommy would have fights ahead of him, so he wanted to toughen Tommy up and teach him resilience. To do this, Tommy's dad took him on tough trips outdoors. On these trips, Tommy found a love for climbing and every summer Tommy would go to Yosemite to climb with his dad. By the time he was sixteen, he had qualified and won the World Invitational after winning his first ever competition the day before. This rocketed his climbing career forward as he became known as one of the best young climbers. 
A short while later, he was offered a trip to Kyrgyzstan with his girlfriend Beth Rodden. During the trip, Tommy, Beth, and the other members of their team were taken hostage by a group of rebels. They were held hostage for six days without food or water, until Tommy pushed their captor off a cliff. They managed to escape to a nearby airport and get home. This caused severe trauma to Tommy as well as Beth. Tommy was unsure of who he was. He couldn't live with himself for taking another person's life. His personality changed completely. After Kyrgyzstan, Tommy was quiet and when he did speak it was very softly. To heal, Tommy went climbing; it was his escape from the world. Then a year later, Tommy accidentally cut off his index finger using a table saw. The doctor told Tommy he would never climb again. Tommy couldn't accept this and started training even harder. He worked until he was stronger than before, and a year later, he finished one of the hardest climbs ever with only nine fingers.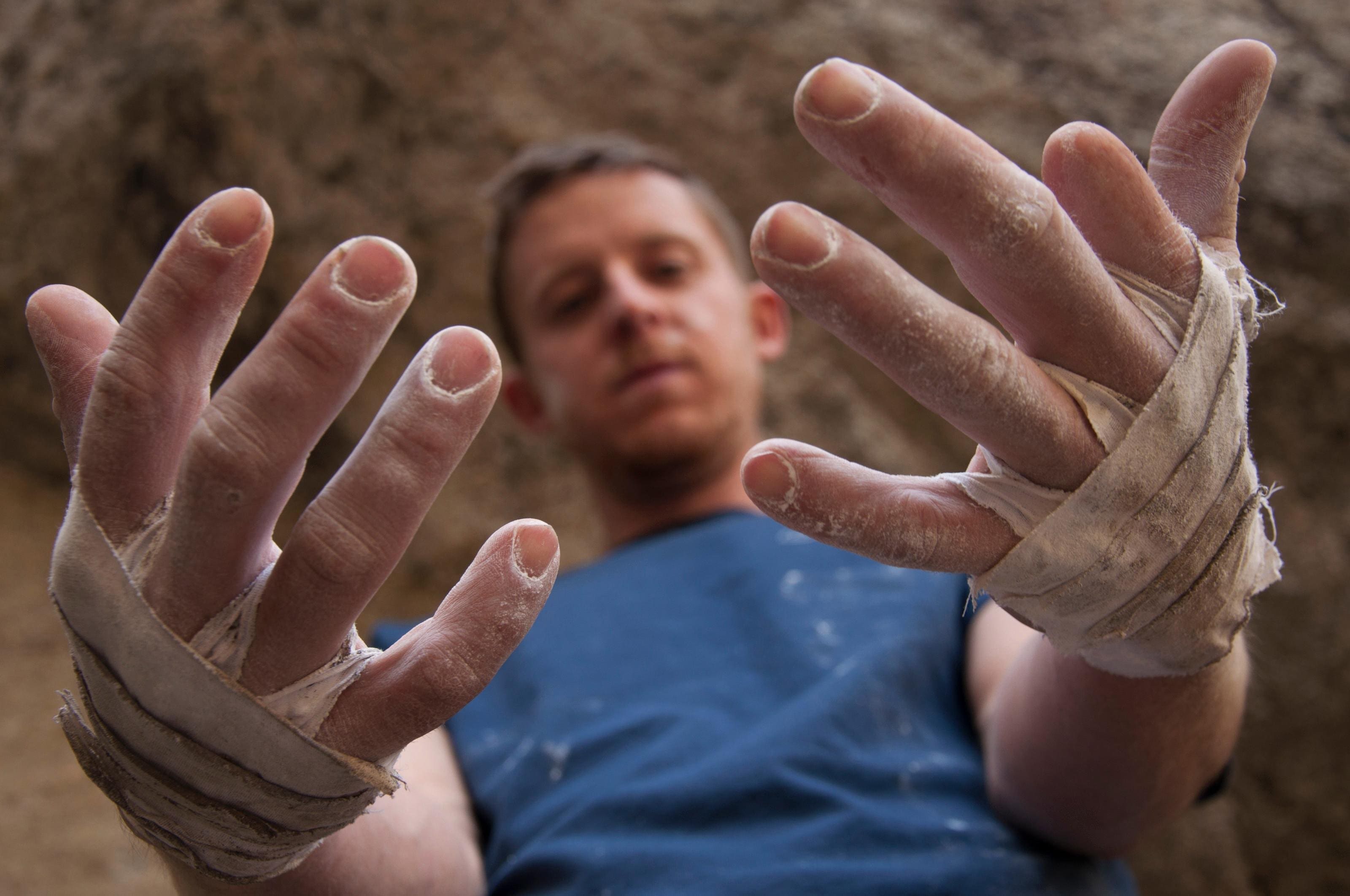 While that is impressive, his most major accomplishment is the Dawn Wall. The Dawn Wall is a (near) impossible multipitch climbing route on Yosemite National Park's crown jewel, El Capitan. The Dawn Wall was viewed as impossible by many of Tommy's colleagues, because it is the most consistently difficult climbing route ever. The holds are like razor blades and the moves are extremely technical. Tommy only managed to stay on the wall due to the friction of his shoes against the blank granite. Together Tommy, and his partner Kevin, spent multiple months every year working on the Dawn Wall. Tommy spent six years planning the route of The Dawn Wall. When Tommy and Kevin finally went for the attempt, they were on the wall for nineteen days before they topped out. This proved that with hard work and commitment anything is possible. 
Tommy's story is one of grit, perseverance, commitment, and hard work. Things didn't always work out for him, but he did not allow challenges to get in his way. That is something I admire about Tommy; he knows what he wants, and he is willing to work for it. I think I am a good option to represent Tommy Caldwell because I am an experienced rock climber, and I don't allow adversity to control me. A barrier that will make connecting with him difficult is the age gap between us. He is thirty years older than me. 
Tommy exemplifies the goals of the TALONS program. He is an advocate for the outdoors and loves to be outside. He also has skills such as perseverance, grit, creative problem-solving and courage. Tommy is worth teaching the TALONS community about because his story is the story of overcoming adversity; something that every member of TALONS will have to do. Tommy left a ding in the universe by proving that you can achieve the perceived impossible with commitment and effort.  
Moving forward, I would like to learn more about his time as a hostage in Kirgizstan by the end of next week. 
Thanks for reading my post. I hope you enjoyed! Please feel free to leave a comment below.
How many people have climbed the dawn wall? Dawn Wall FAQ's. (2021). Climbing Shoe Review. https://www.climbingshoereview.com/how-many-people-have-climbed-the-dawn-wall/ 
Carpenter, Hayden. Skenazy, Matt. Leonard, Brendan. (2021). What 'The dawn wall' left out. Outside Online. https://www.outsideonline.com/culture/books-media/dawn-wall-documentary-tommy-caldwell-review/ 
(2018, September 30). The Dawn Wall. Netflix. https://www.netflix.com/ca/title/81004270?source=35