Eminent Person Introduction Blog Post
"When we started the band, it was because we were waiting for a sound that never happened. We got tired of waiting, and we decided to just do it ourselves. "   – Mike Shinoda ¹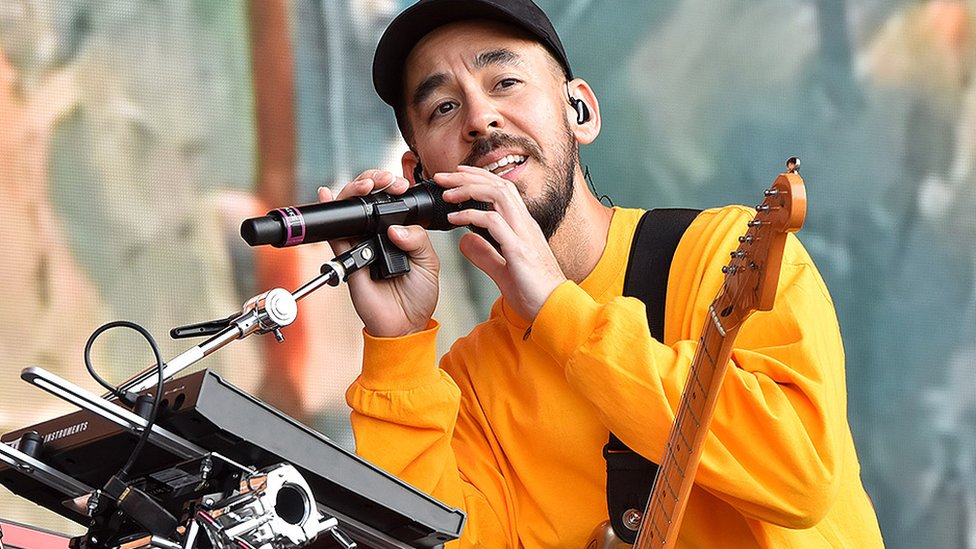 (Shinoda in 2018,  Photograph by Getty Images)
Personal Connections:
I listen to a lot of music, and funny enough, Mike Shinoda just so happens to produce a lot of said music. Additionally, he is one of the reasons I started listening to any music to begin with. Back in 2013, I fondly remember watching a YouTube game compilation with "In the End" playing continuously in the background. This chance encounter led me to start gradually listening to more and more music. Nostalgia and the fact that I strongly enjoy Linkin Park's/Mike Shinoda's music is why I am pursuing him for Eminent. My favourite album from Linkin Park has got to be "LIVING THINGS". I may get into learning how to create my own music because of him.
I can connect to Mike Shinoda as he is an Asian-American who strangely enough also has a Bachelor in Illustration, which skills he now uses to create album art.  As a fellow Asian-American and person who loves to draw as a hobby, I can wholeheartedly respect Shinoda. Shinoda is a great leader and group member, shown in his work as the co-founder of Linkin Park. Mike received the nickname The Glue from one of his band members as he "held everything together." He has also collaborated with numerous other artists to shape his music. I aspire to improve my leadership and collaboration skills to the level of Shinoda's. This is funny enough a skill I'm working on very diligently in TALONS. I also wish to be as creative, unique, and original as Shinoda is with his music and art. Most importantly, I strive to make a lasting positive impact on the people around the globe.
(Mike Shinoda in 2018, Photograph by Ana Ginter)
Eminence:
Xero was a band formed in 1996 by 3 high school friends, Mike Shinoda, Rob Bourdon, and Brad Delson. After graduation, they slowly began to take music more seriously. They later recruited Joe Hahn, Dave Farell, and former vocalist Mark Wakefield. Struggling to find a record deal, Mark left Xero. After recruiting Chester Bennington, Xero changed their name to Hybrid Theory. The band finally signed with Warner Bros. Records as a "developing artist" in 1999. Having to change their name again to Linkin Park. Warner Bros. was initially skeptical of Linkin Park's early recordings, as they did not like the band's rock and hip-hop approach to music. The label wanted Mike Shinoda either demoted or fired from the band. However, Chester Bennington stepped in and defended Shinoda's vision for the album.
(Linkin Park in 2000, Photograph by James Minchin III)
Mike Shinoda is third from the right.
Mike Shinoda's Linkin Park instantly became an international sensation after their debut album "Hybrid Theory." Which was not only the bestselling album of 2001 but also became certified Diamond by the RIAA in 2005. And it's now sold over twenty-five million copies worldwide. Future albums such as "Meteora", "Minutes to Midnight", and "LIVING THINGS" have all continued Linkin Park's success. The band is one of the best-selling worldwide, with over 100 million records sold. They have also won many awards, such as two Grammy Awards and six American Music Awards. Eleven of Linkin Park's singles have reached number one on Billboard's Alternative Songs list. They are ranked as one of the greatest bands of the 2000s. Musical artists influenced by Linkin Park include The Chainsmokers, Blackbear. The Weeknd and Imagine Dragons. Furthermore, Shinoda has many successful solo projects and songs, such as "Remember the Name" and "Post Traumatic" in remembrance of Chester Bennington, who sadly committed suicide in 2017. Rest in peace.  These accomplishments make Shinoda's and Linkin Park's music timeless.
Mike Shinoda's Linkin Park transformed music with their original spin on evolving sound. Linkin Park is also a main source of nostalgia, hope, and inspiration for many people. Shinoda never gave up his dream of pursuing music. He knew what he wanted to do, and how to do it. The fact that he can also play a multi load of instruments and rap well is unbelievable too. These are the reasons I use to believe that Mike Shinoda is indeed Eminent.  Something we can all take away from studying Mike Shinoda is "This is ten percent luck, Twenty percent skill, fifteen percent concentrated power of will, Five percent pleasure, Fifty percent pain, And a hundred percent reason to remember the name. "(Shinoda, 2005, 00:22)
(Mike Shinoda and Chester Bennington performing, 2014,  Photograph by Christie Goodwin)
A goal I have for my next phase of research is to interview someone who knows Mike Shinoda well or even Mike himself. This is to a gain a better understanding of who Mike is and what he does.
References:
Gerber, B. (2020, October 6). Mike Shinoda on the legacy of Linkin Park's hybrid theory 20 years later. Vulture. Retrieved October 22, 2021, from https://www.vulture.com/2020/10/mike-shinoda-interview-linkin-park-hybrid-theory.html.
Mike Shinoda. Linkin Park Wiki. (n.d.). Retrieved October 22, 2021, from https://linkinpark.fandom.com/wiki/Mike_Shinoda.
Pementel, M. (2017, July 25). The impact and legacy of Linkin Park's work. Metal Injection. Retrieved October 22, 2021, from https://metalinjection.net/editorials/the-impact-and-legacy-of-linkin-parks-work.
Wikimedia Foundation. (2021, October 15). Linkin Park. Wikipedia. Retrieved October 22, 2021, from https://en.wikipedia.org/wiki/Linkin_Park.
Wikimedia Foundation. (2021, October 16). Mike Shinoda. Wikipedia. Retrieved October 22, 2021, from https://en.wikipedia.org/wiki/Mike_Shinoda.
Xplore. (n.d.). Mike Shinoda quotes. BrainyQuote. Retrieved October 22, 2021, from https://www.brainyquote.com/quotes/mike_shinoda_428155 ¹
Favourite songs of mine from Linkin Park: