Some people go through life trying to find out what the world holds for them only to find out too late that it's what they bring to the world that really counts.

          – Lucy Maud Montgomery 
Video Source: Historica Canada
From the day she knew how to hold a pencil, Lucy Maud Montgomery wrote.  Journals, news articles, speeches, novels… there was hardly a day in Montgomery's life that she wasn't writing.  Perhaps the most famous of all, Montgomery breathed life into the fictional Canadian icon Anne Shirley, a free-spirited girl whose life was full of imagination and mischief.  Montgomery was, and is, a Canadian icon who rose to fame during a time that female authors were disregarded as worthy contributions to literature.
Born on November 30, 1874 in Clifton, Prince Edward Island to Hugh John Montgomery and Clara Woolner Macneill, Montgomery was a privileged little girl.  Both the Montgomerys and the Macneills were powerful Scottish families who held the majority of the real estate in PEI. The Montogmerys and the Macneills had comfortable ties to powerful Scottish Clans, were financially secure, prominent in PEI's politics, and even had a few distinguished authors in their ancestry prior to Montgomery.  
Lucy Maud Montgomery as a child
Source: Wikipedia
Despite this, Montgomery's childhood was not an easy one.  Montgomery's mother passed away from tuberculosis when she was only 21 months old.  Not long after, Montgomery's father left her to be raised by her maternal grandparents Alexander Marquis and Lucy Ann Macneill in Cavendish, Prince Edward Island.  Her grandparents, old-fashioned as they were, were cold and unloving towards Montgomery as they raised her.
Montgomery was an intuitive, highly sensitive child with elaborate mood swings which, much to her grandparents' dismay, earned her quite a reputation amongst her town.  Despite her harsh upbringing, Montgomery's childhood was a happy one, having many friends and cousins to play with. Never one to spend too much time indoors, Montgomery spent hours on end playing outside in PEI's many fields and beaches.  This kindled a love for nature, causing Montgomery to feature it in the majority of her stories later in life. While she enjoyed playing with the other children, Montgomery also enjoyed her alone time and would spend much of her youth reading and writing.  Her most famous influences were Louisa May Alcott (author of Little Women) and Charles Lutwidge Dodgson (author of Alice in Wonderland). Both of whom greatly inspired her work later on, most notably Anne of Green Gables. 
The original Anne of Green Gables cover
Source: Biblio.co.uk
Reaching adulthood, Montgomery was struck with the sudden realization that it would be difficult for a woman to ever make it as an author, so she decided to become a teacher, which was quite popular for women at the time.  She spent two years studying to teach young children at Charlottetown's Prince of Wales college, and obtained a teaching license. In July of 1894, Montgomery began teaching and found she loved working with children. In her free time, she continued to write and publish stories and articles for her town's local newspaper.  
Instead of continuing down the lane that most young women her age took (teaching until they found a worthy spouse), Montgomery chose to save up her money (with the help and encouragement from her grandmother) and attend Dalhousie College in Halifax, Nova Scotia.  It was there that she met Archibald McKellar MacMechan, who saw Montgomery's capabilities and fed her passion for literature. After a year, Montgomery could no longer afford college and was forced to drop out. This made her feel quite disappointed and frustrated, especially since one of her male cousins was given the money and encouragement to continue on while she wasn't given any further praise or funding.  
Montgomery returned to the world of teaching which offered little pay, and was promptly engaged to her cousin Edwin Simpson.  Montgomery despised Simpson, and felt little affection from him. Longing for a loving husband and children of her own, Montgomery fell into loneliness and depression.  After Montgomery's engagement was cancelled and she had an unsuccessful affair with George Herman Leared, Montgomery returned to Cavendish where she earned praise and respect by caring for her recently-widowed grandmother.  Montgomery soon found the time to write again in Cavendish, and running the town's post office helped Montgomery listen to the town's gossip and find inspiration for stories. Montgomery finished writing her debut novel Anne of Green Gables in 1901.  Her novel had five rejections, many of which almost prompted to give up on her dreams.  Determined to succeed, Montgomery continued trying until its eventual success. For nine months, Montgomery worked for Halifax's Daily Echo, writing many intriguing stories and articles that captivated anyone who read them.  In 1902, however, Montgomery returned to Cavendish to fight a legal battle for her grandmother after her uncle tried to force her out of the house due to old age.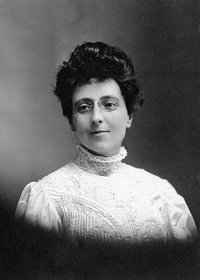 Lucy Maud Montgomery in adulthood
Source: Dictionary of Canadian Biography
In 1903, Montgomery developed an interest for Reverend Ewen Macdonald, the local Presbyterian minister.  Macdonald's feelings turned out to be mutual, and the two were secretly engaged in 1906. One year later, Montgomery finally published Anne of Green Gables.  In 1911, Montgomery and Macdonald were finally married, and spent their honeymoon in Scotland and England where Montgomery found more inspiration for her writing.  
Shortly after, Montgomery moved to Ontario where she continued to suffer from various mental health problems including insomnia, depression, and anxiety.  After suffering multiple losses and stress due to both World Wars as well as a loss in her novels' popularity, Montgomery passed away on April 24, 1942. The exact cause of Montgomery's death is unknown, but it was mainly written off as illness due to her mental health and weight loss. 
Lucy Maud Montgomery was an incredible author, feminist, and journalist.  Her works have, had, and continue to be read by audiences of all ages through their unique characters and choice of setting.  Montgomery overcame discouragement and criticism to become the influential woman she is today.  The majority of her works featured trouble-making, free-spirited young girls who weren't afraid to speak their mind, which was vastly uncommon for her time and inspired other famous characters, including the lovable Pippi Longstocking.   
***
I have enjoyed reading Montgomery's work, and having visited Prince Edward Island over the past summer, I spent a lot of time exploring the Anne of Green Gables house and became quite interested in the life of Montgomery and what obstacles she overcame to become a published author.  Personally, Montgomery inspires me to never give up on my passions and continue chasing my goals even when it's difficult to find hope.
Next, I will research Montgomery's influences and pick one person or thing to focus on.  I will also look back to my vacation photos from summer 2019 to see if I can use any of them for my Learning Station during Night of the Notables.
Green Gables Heritage Place in Prince Edward Island
Source: Lonely Planet
Comparison Between Lucy Maud Montgomery and I:
Lucy Maud Montgomery 
Me (Brianna Tam)
Ethnicity

Canadian

Canadian

Race
Caucasian

Asian/Caucasian

Religion

Christian 

Christian

Upbringing

Raised mainly by grandparents

Raised by parents

Sibling(s)

Only child, but had many cousins who were almost like siblings

Younger brother, six cousins

Interests &

Hobbies

Creative writing, nature, feminism, journalism

Creative writing, nature, feminism, music, biology

Qualities &

Traits

Determined, creative, patient

Determined, creative, patient
Works Cited: 
McIntosh, Andrew. "Lucy Maud Montgomery."

The Canadian Encyclopedia.

N.P. 1 January 2013. Web. 17 October 2019.

https://thecanadianencyclopedia.ca/en/article/montgomery-lucy-maud
Ruby, Mary Henly.

"Montgomery, Lucy Maud."

Dictionary of Canadian Biography.

University of Toronto. 2018. Web. 17 October 2019.

http://www.biographi.ca/en/bio/montgomery_lucy_maud_17E.html

"About L. M. Montgomery."

L.M. Montgomery.

N.P. Unknown. Web. 17 October 2019.

https://www.lmmontgomery.ca/about/lmm/her-life