It is now 2 months into in-depth and time has been flying by. I've made some good progress with my project and I hope to continue learning and progressing as much as possible. So far, my mentor and I have been trying to meet up at least once every 2-3 weeks. So far each session has been 2:30-3 hours, which I think is a reasonable amount of time. So far I have communicated with my mentor both in person and online. We have been texting and emailing in order to stay in contact when we aren't able to meet. My mentor and I have been meeting at Climb Base 5 in Coquitlam because it is the closest indoor rock climbing gym for both of us. We maintain our connection by emailing, texting and meeting up for sessions as much as possible
What went particularly well during your mentoring sessions?
I found that we were able to connect really well during our sessions. It was easy for me to relate to my mentor, Shannon as she used to be a MACC teacher and understands gifted kids. She understood the way my thought process works and then made sure that she showed me new skills in a way that would be easy for me to understand and implement. Shannon has been amazing an amazing mentor so far.
What three strategies could improve the quality of your mentoring interactions?
To improve the quality of the sessions that I spend with my mentor, her and I could discuss a plan before hand and decide specifically what we will work on for that day. We could also try to meet up at a time where the climbing gym isn't as busy, as in the past it has been quite busy and loud while we were there. Lastly, we could set a goal for me to work on by myself so that next time we meet I can share my progress with her.
What is the action plan for implementing each of the three strategies?
I plan on talking to mentor more in depth before we start climbing to discuss the goal for that session, as well as talking to her more after to plan out what I should work on in my own time. Finally, I plan on finding out what days the gym is busiest and try to avoid going those days as it does impact the amount of climbing we can do.
Progress
Since my last post I have gone climbing 3 times and I have already seen some progress in my climbing. I have mainly been focusing on top rope climbing and I am finding it easier to do 5.10 climbs which were quite difficult for me before. I have also been working on my upper body strength as well, as that will make bouldering easier. In the future I plan on continuing to work on strength, but I also hope to focus on bouldering more.
Equipment
Since my last post I went to MEC and purchase rock climbing equipment of my own. I was able to find some good equipment that wasn't super expensive. Here are picture of the equipment as well as links to the product:
Knots
My mentor showed me several different knots that are used in climbing and what they are used for. These are some of the ones that she showed me: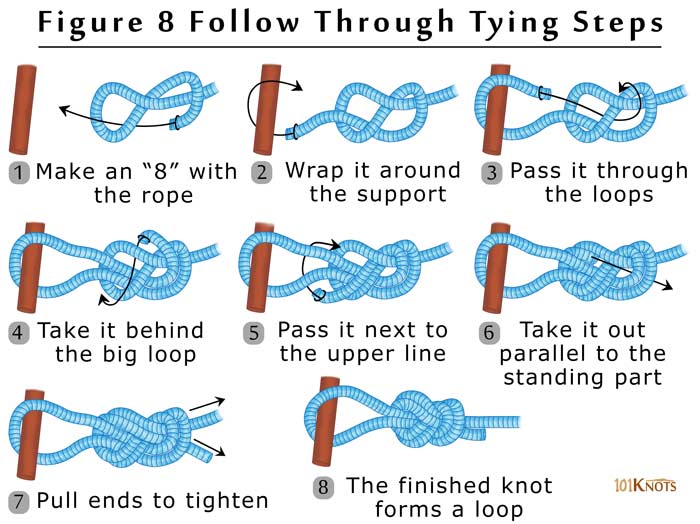 Climbing Plan
To help me with my project Tyson designed a workout plan that I can use when I go climbing.
—-Warm up—-
When you arrive at the gym, do a ground warm up (use bands if you can) make sure to do dynamic stretches for arms, hips, shoulders, legs and hands. Warm up for 10-15 minutes, then warm up hands on the climbing wall for 5 minutes, or until warm.
—-Hangs—-
After you feel warm, go upstairs to the hang board and do 2-3 warm up hangs on a high edge or the wooden hang boards. After warm up hangs, figure out your lowest crimp edge (should be able to hold for at least 13 seconds) and then go up 2 edges (if you are on 10, then go to 14 or 12, it skips by 2) hold for 10 seconds, take a 5-10 second break, then go down to minimum edge and hold for 10 seconds. Find a pinch block and clip 10 lbs to the block. Hold pinch block by your side and slightly bend arm, hold for 15 seconds on both hands. Repeat crimps and pinches again.
—-Climbing—-
Project bouldering or top rope hard climbs and focus on footwork 30 min – 40 min (or an hour if you are staying longer). Choose climbs that you think you can finish within the time period.  If you want to work on stamina, climb up and down an easy auto belay climb for 17 minutes as many times as you can.
—– WORKOUT——
Go upstairs to workout area
2 sets of 2 frenchies (if possible)
2 sets of 5 or 10 negatives
10-20 pushups, 10-20 crunches (amount you think you can do 3 sets of)
1 min rest
Second set
1 min rest
Third Set
Now do 10 minutes of stretching or more